Difference between a bailiff, high court enforcement officer and debt collector
Bailiffs, High Court Enforcement Officers (HCEO) and debt collectors are different roles, but all have the same purpose: retrieving a debt on behalf of a creditor. Although they can all visit your home, there are differences between the powers debt collectors and bailiffs have when it comes to taking goods and entering premises.
What's the difference?
'Bailiffs' is a term for agents instructed to retrieve debts on behalf of either a creditor or the courts. There are two types of bailiffs with varying degrees of power: High Court Enforcement Officers (HCEO) and debt collectors. All enforcement agents must be fully certified with a Bailiff General Certificate from the county court, or with someone who is certified whenever they attempt to collect a debt.
Although technically, both High Court Enforcement Officers and debt collectors are bailiffs, their powers significantly differ.
HCEOs act on the courts' behalf and have greater power available to them. In certain circumstances, they can enter a building using force, but only after exhausting all alternative options.
Creditors hire debt collectors, and as such, do not carry the same powers as HCEOs. Since debt collectors are hired privately rather than acting on behalf of the courts, their powers are limited.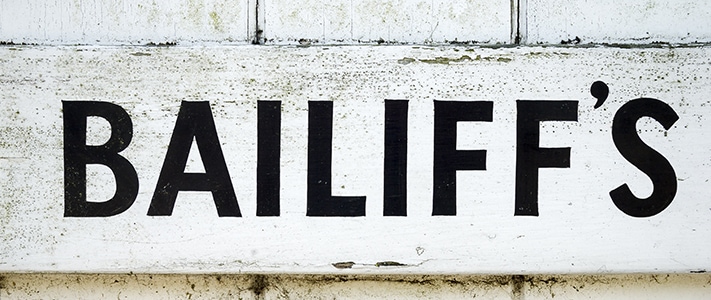 High Court Enforcement Officer (HCEO)
High Court Enforcement Officers (HCEO), formerly known as sheriffs, are officials acting on behalf of the court and appointed by the Ministry of Justice. They enforce orders from the High Court, collecting debts such as CCJs for over £600, VAT, income tax, national insurance, court fees and unpaid council tax.
Although they have more powers than a debt collector, they must still act by the rules of the court. Consequently, they have legal powers that privately hired debt collectors lack.
What powers do HCEOs have?
As HCEOs are working on behalf of the courts, they have much greater powers than debt collectors, with legal rights and powers granted to them on behalf of the courts.
HCEOs can:
Force entry into a business' premises on a first visit.
Recover items equivalent to the debt's value plus interest and enforcement costs.
HCEOs CANNOT:
Use violent, intimidating, or aggressive tactics when collecting debts. They must respect your confidentiality.
Take any essential items which are crucial for a business to work.
Seize any assets on lease or hire purchase.
What bailiffs can and can't take
When visiting individuals, HCEOs have a similar set of guidelines. They cannot force entry into residential premises on a first visit and cannot take items essential for living.
Debt collector
A debt collector is an individual who works for a debt collection agency and has been employed by the creditor to collect assets equal to the value of the debt. As debt collectors have no power to actually collect goods, creditors may use it as a technique to try and intimidate people into settling their debts.
What powers do debt collectors have?
Debt collectors do not have the same rights as HCEOs. Their powers are limited to reminding and requesting that you repay the debt they've been sent to collect.
Debt collectors can:
Collect money for debts such as credit cards, loans and utilities.
Debt collectors CANNOT:
Force entry into residential or commercial premises. This includes breaking windows, doors or pushing past when you open the door.
Seize any goods without the permission of the debtor in any circumstances,
Enter a business or residential property without being invited in, and they must leave if you ask. If you choose not to open the door or let them in, there is nothing they can do about it.
More on bailiff's powers
Gaining entry
Regardless of their status, enforcement officers cannot force entry into an individual's premises during their first visit. This means they cannot push past you or climb through a window.
If an enforcement agent has previously visited an individual's premises and listed goods in a controlled goods agreement, they can use force to enter if the debt is still unpaid. HCEOs can also use force to enter a business' premises if they have exhausted all other options.
As previously mentioned, debt collectors do not have the right to enter premises or force entry and must leave when asked.
Why are the bailiffs visiting?
If your company is suffering financial hardship, with debts it cannot repay pushing it into insolvency; you may be worried about bailiffs visiting or anticipate a second bailiff visit.
If you're struggling with creditor pressure, it's vital to seek advice and get to the root of the problem as quickly as possible. Speak to us if you or your company is insolvent and unable to repay debts when they fall due, and we can look to protect you from creditors.
How we can help
If you're struggling with debt and are worried bailiffs might visit, we can offer you free, impartial advice with no obligation, and find the best solution for your circumstances.
Formal repayment plans
Available to both limited companies and individuals and sole traders, these offer protection from creditor pressure, including visits from debt collectors and High Court Enforcement Officers.
Restructuring a limited company
If repayment arrangements aren't a feasible solution, we can take control of the company and make the necessary changes via administration. From there we can restructure the company and make the necessary changes to sell it.
Closing the company
If the debts reach a level from which you cannot see any recovery path, you can explore a voluntary liquidation. The company will close in through an orderly, structured process, and all creditor pressure will cease.
What to do if they show up
If either type of bailiffs visits your premises, you should consider several factors. Remember, only High Court Enforcement Officers can force entry into your business premises to recover assets. They cannot force entry into residential premises on a first visit but can if they have previously gained lawful access. You can ask for proof of identity or a breakdown of the debts they are there to collect, which all HCEOs must carry.
If debt collectors show up, you can ask them to leave, and call the police if they refuse.
Your rights against bailiffs
In summary
Although all bailiffs have the same purpose in their work, the powers, and rights they have are very different. Debt collectors are not acting on behalf of the courts and are hired privately by creditors. Their powers are extremely limited, and they cannot enter a commercial or individual's premises unless invited in. A High Court Enforcement Officer (HCEO) is acting on behalf of the courts and therefore has more legal powers than a debt collector. In specific circumstances, an HCEO does have the right to enter a building using force; however, this is normally after exhausting all other alternatives.
FAQs
Can bailiffs enter my home if I'm not there?
Whether a bailiff can enter if you're not at home depends on the type of debt they're there to collect. If the bailiffs are HCEOs and they're chasing debt related to HMRC, if they have a writ of possession for eviction, or the building is commercial premises, they can enter the building with help of a locksmith.
If the bailiffs can access your home through an unlocked door, they can enter even if you're not present.
Bailiffs cannot visit between 9pm and 6am.
Can bailiffs collect council tax debts?
Bailiffs can be sent to recover unpaid council tax, but usually only if the debt remains unpaid 7 days after the issuing of a final notice. The council will likely apply for a 'liability order' to gain permission to collect the debt. Bailiffs may be sent after-which.
💬 Live Chat - Available
✅ Free confidential help & advice
If you or your company is in financial difficulty, I may be able to help you. Our phone lines operate 9am until 9pm - 7 days a week.
Chat With Me
For immediate help & free advice, please freephone:
Free Consultation
Request a free confidential telephone consultation from 9am to 9pm, 7 days a week.
Call Now