Finance & Funding Help & Advice
Finding the right funding will allow your business to invest and grow without a damaging impact on your cash flow. The various finance options available can also help if you've been impacted by unforeseen circumstances, such as a downturn in trade, sudden expenditure, or a large, unpaid invoice.
Why should you consider looking into additional funding?
Sometimes, what you have in the bank isn't enough to cover an upcoming expense, allow for needed investment, or keep your cash flow healthy until the next incoming payment. The right funding product can be used to cover the costs of unforeseen events, such as a late-paying client or an unexpected bill. Additionally, it can allow the business to invest and expand into new markets and work alongside your ambitions.
Your finance options
Which option is best for you will depend on your type of business, how much you wish to borrow and what you need the funds for. If you're unsure which option is most suitable for your business, our initial advisors can point you in the right direction.
Invoice finance
Invoice finance involves a business borrowing a percentage against the value of its unpaid invoices. Invoice finance is useful for businesses awaiting payment of invoices which may be overdue and risks unbalancing the cash flow. It is also designed to grow with your business, as your sales grow, so does your invoice finance facility.
More information on invoice finance
Factoring and discounting
The two main types of invoice financing are factoring and invoice discounting. Both allow for fast releases of cash and can help businesses ease cash flow issues.
Invoice factoring involves selling your invoices to a factoring company in exchange for a portion of the funds the payee owes you. To borrow these funds, you'll pay the lender a fee, a fraction of the invoice's amount. The lender sends you the funds, normally 70-90%. Once the invoice is fully paid, the lender subtracts their fees then distributes the rest to your business. There is also invoice discounting, which may be more beneficial for larger companies.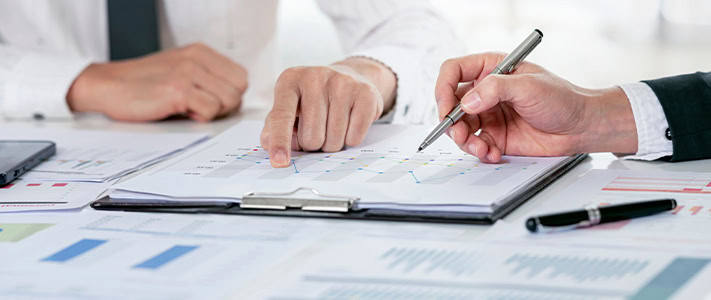 Commercial finance
Commercial finance refers to several different types of finance options. These options are used frequently to finance expensive purchases so that they won't impact your business' cash flow.
More information on commercial finance
Other types of commercial finance
As previously mentioned, commercial finance has different types depending on what your business needs it for. Trade finance, for example, can be used to fund trading operations, both domestic and international and is very useful when looking at importing pre-sold goods from overseas. Asset finance is designed for purchasing extra equipment to help your business grow or to lend money against assets it currently owns. Bridging loans are short-term financial arrangements, often used to cover expensive one-off outgoings, and repaid for by the prospective sale of an asset, such as property. Hire purchase enables the business to buy new assets while spreading the costs.
These are some of the commercial finance options we have available for businesses.
In summary
There are many finance options available for businesses of all sizes. What arrangement is best for your business will depend on your circumstances, and how you plan to use the funds. The processes can help cover a gap in your incoming payments, or help your business cover an expensive outgoing without it impacting your cash flow.
How we can help
We have years of experience working with businesses of all types to obtain finance. Our team are excellently placed to negotiate with lenders to secure the best deal for your business. So, whether you need to cover an unexpected bill, or you're looking to invest and grow the business into the future, get in touch. Our initial advisors offer free, impartial advice, and a no-obligation quote.
Free Consultation
Request a free confidential telephone consultation from 9am to 9pm, 7 days a week.