Occasionally, your business may need to make purchases which could, without additional funding, impact your cash flow. Commercial finance encompasses several solutions to minimise any negative effects from large scale purchases. Which option is best for your business will depend on its circumstances and how you'll use the additional funds.
What is commercial finance, and how can it help my business?
Commercial finance is an umbrella term used to describe several financial arrangements. Each is varied and flexible to meet your business' requirements. They are used by businesses, large and small, in both the long and short-term. The versatility of the arrangements means they can be used for many different purposes. A business may need to expand to fulfil an order or adapt to market changes, but not have the cash reserves to do so. Acquiring commercial finance can allow a business to unlock its potential without heavily denting its cash flow reserves.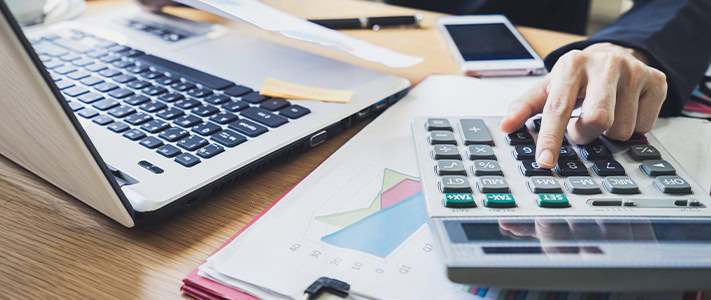 What commercial finance options are available?
While the sheer number of commercial finance options can be intimidating for those not queued up on the jargon, there are three types we can assist you with.
Asset finance
If your business needs new equipment, be it vehicles, machinery, or fittings, asset finance can help you access the cash for these resources, repaid at a rate to suit you.
Leasing is one of the most popular of these arrangements. Upon payment of a deposit, your business is granted access to an asset, with the asset often returned to the provider, or upgraded for a new arrangement at the end. The advantage of not owning the asset usually means the leasing company provides maintenance or support should something go wrong.
Hire purchasing is another widely used form of asset finance. Your business pays a deposit before receiving the asset, then repays the rest in instalments. The process is akin to leasing, except your business owns the asset after the repayment period ends.
Both arrangements allow your business to grow and expand while limiting the impact on your cash flow.
More information about asset finance
Factoring and discounting
Businesses can sometimes find their cash flow under strain. By factoring your invoices, you can quickly receive a cash injection to help last you until your next payment. Invoice factoring and invoice discounting both come under 'invoice finance'. Factoring involves a factoring company lending you a portion of an unpaid invoice, taking a fee once the full amount is paid. Discounting works similarly, but is better suited to large companies with credit control facilities rather than SMEs.
More information about invoice discounting
Trade financing
For those looking to finance their importing, exporting or domestic transport of goods, trade financing can help. Transferring goods in and out of a country can be a lengthy, costly exercise which could impact your cash flow.
Trade finance involves several simultaneous processes and ensures both the importers and exporters receive funding, allowing businesses to continue operating while their goods are shipped across the world. While trade financing can be a complicated subject, we can find a funder who'll make sure everything runs smoothly and support you through the process.
More information on trade finance
Commercial mortgages
If you're looking to finance a property or premises for your business, whether that's land for agriculture, a production facility for manufacturing, or an office block, you can explore commercial mortgages. These arrangements are useful for expanding businesses needing new premises' or a second site.
After we match you with the lender best suited for your circumstances, they will assess how much you can afford. You may have to provide security, such as the property you are borrowing against.
More information on commercial mortgages
In summary
Commercial finance is a useful tool for businesses needing to make expensive purchases while minimising their impact on its cash flow. There are several arrangements, each with its own tailored use. Whether it's purchasing or leasing vehicles while paying for them monthly, factoring large or overdue invoices, financing trade, or new premises, we can help find you the best lender for your circumstances.
How we can help
If you're looking for additional finance to fund your business' needs without heavily impacting your cash flow, speak to us today. We have years of experience in the industry, and positive relationships with lenders, so we'll help you find the best commercial finance solution for your business. All initial advice is free and impartial with no obligation.
Free Consultation
Book a free telephone consultation with one of our initial advisers